WELCOME TO EARTHPEDIA!!!
This website was created so people like you can learn, research, and help the Earth. It was created on March 16, 2011.Come everyday to see new updated things from our homepage and other pages! Also check out the daily video that is affecting, helping, or about the Earth! If you have any questions, comments, concerns, or other ways to improve this site, please post them on the "Talk Page". If you are or get bored, please check out the FUN PAGE to enjoy some great, irresistible games! Tell your friends and family! USE THE CALCULATORS TO SOLVE MATH PROBLEMS!!! Thank You for visiting Earthpedia, come back again!
This is a FREQUENTLY updated Encyclopedia of the Earth!!!
Earthpedia is not only an encyclopedia, but also an essential news website. Come often to check out up-to-date coverage! Tell Your Friends and Family!!!
The Daily News Video - Know today's news in one minute!
We update the "Daily News Video" and "Another Daily News Video" every day around 6:00 PM CMT. (But sometimes we update them when it is needed to be updated; like when it is BREAKING NEWS) So check The Daily News Video often. We put up-to-date news coverage on Earthpedia. Always come back for more updated news! Know all the news for today in one minute!!!
---
"Earth News" and "This Day in History"
Earth News is Earthpedia's news page on its website! We thought it would be convenient for our visitors that when they visit our website, they could also look up some news! By the way, Earthpedia's "Earth News" contains up to date new info with up to the minute coverage!!! Come read some news now!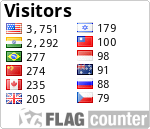 Earthpedia: The Earth's Encyclopedia © Copyright 2011, All Rights Reserved.